The branch is back, and it's better than ever.
Although COVID-19 wreaked havoc on many businesses -- particularly retailers -- the upside of the pandemic was the acceleration of digital and network transformation initiatives. Businesses were forced to get creative on how to enable a safe, yet efficient approach to delivering excellent customer experience, digitally and in-person, especially for branch locations. This led to the adoption of many new technology innovations such as self-service checkouts, increased usage of ATM/kiosks, and food delivery apps for many businesses and retailers like Chipotle, AutoNation, and more.
However, for many organizations, the biggest change was the pivot to a hybrid workforce. Whether employees are working from home, on-campus or in a branch office, businesses now must ensure secure remote access regardless of location. For this reason, the secure access service edge (SASE) model -- the convergence of networking and security in the cloud -- is now more prominent than ever.
With all of this in mind, I am proud to announce that as part of the Prisma SASE announcement, we are launching Palo Alto Networks Prisma SD-WAN 5.6, our most innovative SD-WAN release to date! With a new integrated 5G SD-WAN appliance, Autonomous Digital Experience Management (ADEM) for all users and branch offices, new CloudBlades integrations to deliver ChatOps, collaborations and operations management simplicity and new artificial intelligence for IT operations (AIOps) enhanced dashboards, Prisma SD-WAN 5.6 is ready to take your branch to the next level.
Introducing the ION 1200: Integrated 5G SD-WAN Appliance
It's no secret that organizations have been replacing their costly and ineffective Multiprotocol Label Switching (MPLS) with software-defined wide area network (SD-WAN) using broadband. But the rise of 5G is now changing the game for all organizations across multiple, different verticals; particularly for use cases like ATM/kiosk that are now using cellular WAN as their primary connection. We've also seen frequent usage of 5G in industries such as retail and manufacturing. In other cases, LTE and 5G have become a viable primary WAN connection for branches or as a backup connection to improve branch resilience. Many times, customers are forced to deploy multiple appliances at their branches, which increases cost and complexity.
What the market clearly lacks is a solution that provides natively integrated 5G with SD-WAN. I am excited to introduce the ION 1200, our integrated 5G SD-WAN appliance. With the ION 1200, organizations can accelerate their SASE deployment to branch offices by leveraging 5G connectivity without the hassle of installing additional 5G hardware in the branch. Organizations can use 5G as the primary WAN connectivity to enable the rapid deployment of ATMs/kiosk systems or as a secondary backup link to improve the resilience of the branch WAN.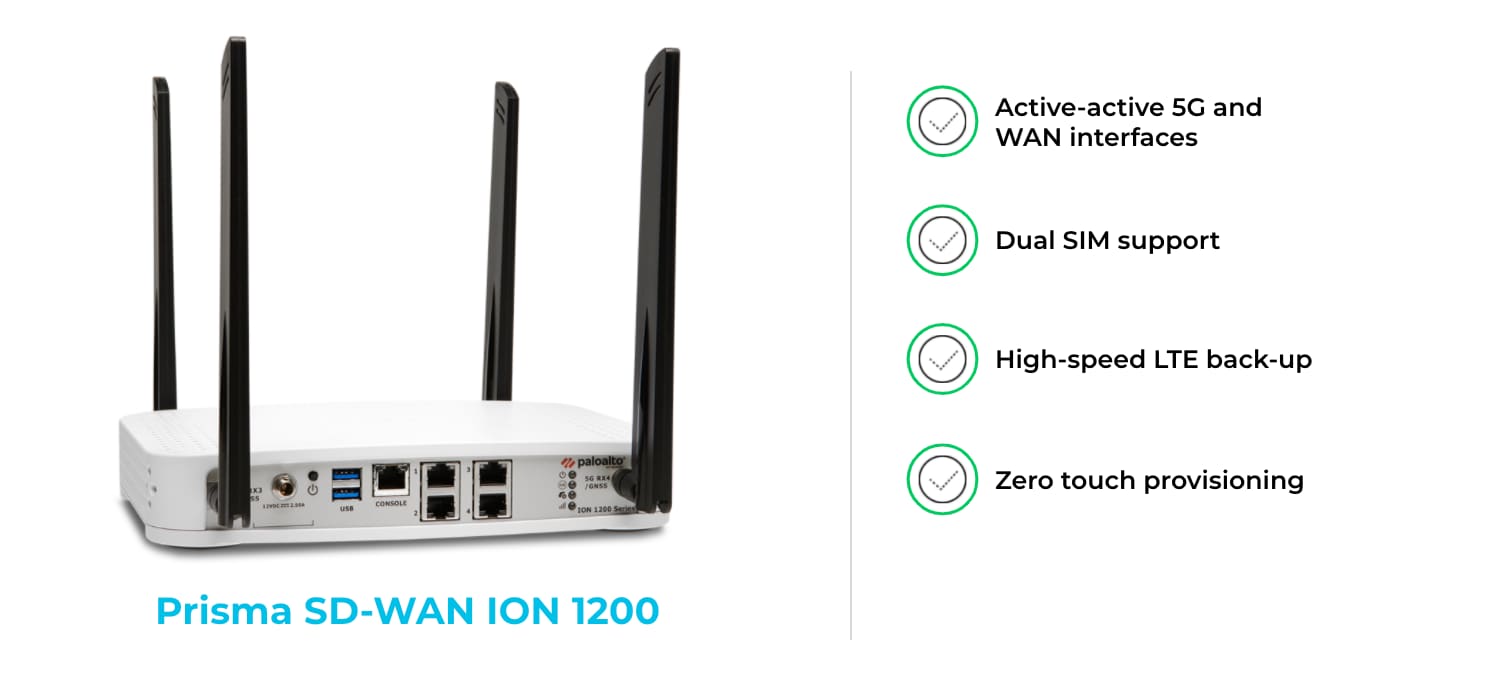 The ION 1200 represents uncompromised 5G SD-WAN, meaning no other 5G SD-WAN solution on the market provides an active-active 5G/ethernet interface, which is required to provide carrier redundancy. Other solutions often require the installation of separate modules, or separate appliances plugged into the SD-WAN CPE. What we have done with the ION 1200 is delivered all of the required branch capabilities in a neat, compact, integrated package. But wait, there's more!
ADEM for All Users and Branch Offices
Less than 6 months ago, we announced ADEM for remote users. We have now extended ADEM for all users and branch offices, enabling organizations to gain end-to-end visibility from a single management console, without the need to deploy additional agents or appliances. Especially as businesses are moving to a hybrid work model, ADEM can enable IT teams to gain deep observability for all their users and applications, regardless of location. As a result, ADEM with Prisma SD-WAN can ensure the best digital experience for branch users by providing observability in the cloud and across the entire service delivery path. In addition, you can leverage real and synthetic traffic analysis for both user endpoints and IoT devices to pinpoint issues easily.
With ADEM now across the entire Prisma SASE platform, organizations can gain:
SASE-native visibility across the entire service delivery path. ADEM provides deep visibility into SASE-based service delivery, from endpoint to WiFi, ISP, and all hops in between the user and the application, while delivering operational simplicity.
Segment-wise insights using real and synthetic traffic. It provides distinct visibility per segment across the entire service delivery path and expedites troubleshooting and remediation. Monitoring data collection from endpoint devices, synthetic tests, and real user traffic provides the most comprehensive digital experience visibility in a single solution.
Autonomous remediation of network and security issues. Enabling customers to quickly identify and automatically correct digital experience issues before or when they arise. ADEM uplevels your IT teams with easy-to-use single-pane visibility that leverages endpoint, simulated, and real-time user traffic data to provide the most complete picture of user traffic flows possible.
CloudBlade Integrations: Zoom, Microsoft Teams, and ServiceNow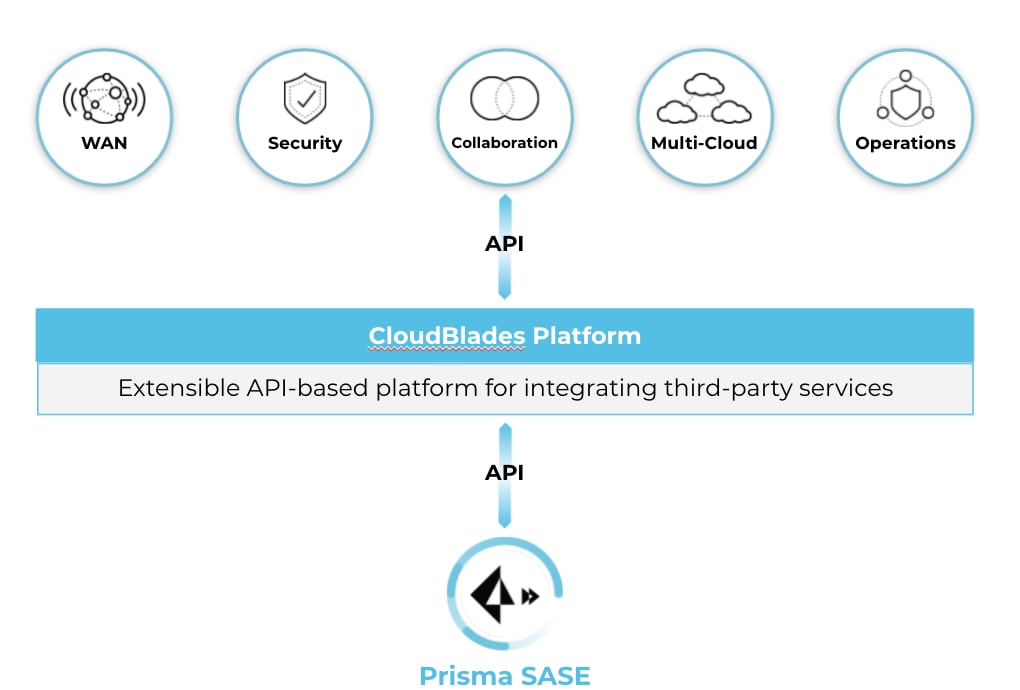 The Palo Alto Networks CloudBlades platform enables the seamless integration of branch services into the SASE fabric without needing to update your branch appliances or controllers, thus eliminating service disruptions and complexity. This unique cloud-based API architecture automates deployments of third-party services, enabling organizations to simplify network operations and multi-cloud connectivity, as well as expedite deployments.
In addition to the existing CloudBlades offerings, Palo Alto Networks is now introducing a CloudBlade for Zoom to improve video conferencing performance, Microsoft Teams to enable ChatOps, and ServiceNow to improve AIOps.
New AIOps Enhanced Dashboard
Enterprises with limited IT staff struggle with troubleshooting network issues as it is extremely manual and time consuming. They are forced to analyze multiple, disjointed dashboards to correlate issues, increasing time to resolution. To easily identify connectivity issues and simplify tedious admin work, organizations need a condensed dashboard that consolidates large amounts of information into a single, digestible view.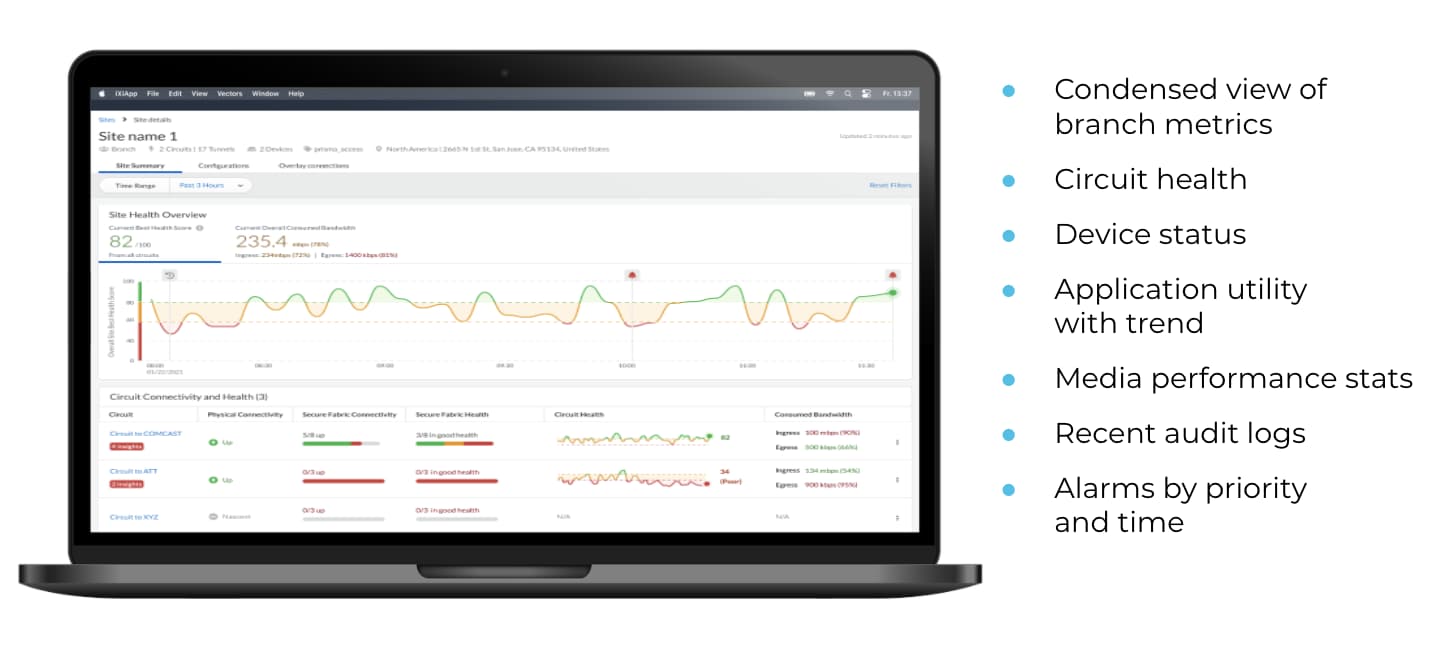 Prisma SD-WAN is enhancing its AIOps capabilities by providing rich telemetry of network insights, allowing admins to perform granular trend analysis and create unique network conditions that can automate tedious, manual tasks. Admins can view VPNs, circuits and site health metrics to discover long-term trends and issues. All of this insightful data and analysis can be viewed on Prisma SD-WAN's new site summary dashboards, allowing admins to easily consume and correlate data to reduce time to resolution.
Join Us At SASE Converge 2021
From September 28-29, Palo Alto Networks will be hosting SASE Converge 2021, the premier summit for what's next in SASE. Leading voices from the networking and security industries will converge virtually to discuss the learnings from adopting SASE technologies and describe what the future of these technologies will make possible. We will dive deeper into these new product innovations on day two of the event. I hope to see you there, virtually.