Most organizations typically lack SD-WAN visibility across branches, data centers, and the cloud to effectively control the flow of information resulting in operational complexity and poor user experience. With a hybrid workforce here to stay, visibility now has to extend to users, branch segments, and application performance at each mile to destination. An ESG research study found that "organizations' top goals for their digital transformation efforts include the ability to drive greater operational efficiencies (56%), the adoption of tools and processes to allow users to interact and collaborate in new ways (49%), and the ability to provide better and differentiated customer experiences (40%). However, Legacy SD-WAN solutions offer limited network visibility at the branch level and also deliver poor security posture across organizations' infrastructure. As a result, to enhance user experience, organizations are forced to add third-party services with point products causing more operational overhead.
Improved Collaboration with Next-Gen SD-WAN and ChatOps
Prisma SD-WAN is the industry's first next-generation SD-WAN to deliver comprehensive application-level visibility across branches, data centers, and the cloud. Combined with AIOps and ADEM, customers gain granular visibility into the performance at every WAN path, hop, and mile to destination. Simultaneously, organizations are increasingly leveraging collaboration tools to extend SD-WAN visibility anywhere. ChatOps applications are gaining popularity and are evolving into effective channels that connect people, tools, and processes.
With these requirements in mind, I am thrilled to announce Prisma SD-WAN integration with Microsoft Teams to deliver ChatOps for SD-WAN. This seamless integration connects ChatOps with the SD-WAN controller to interactively query analytics on any device and any location without requiring to log on to corporate networks.
"We are further strengthening our relationship with Palo Alto Networks to enable improved visibility for any organization with this turn-key integration," states Casey McGee, VP ISV Partner Sales at Microsoft. "Our customers can now gain granular visibility into their branch connectivity, application performance, and utilization for an exceptional, secure, user experience from anywhere."
Tana Rosenblatt, VP Network Security Technology Partnerships at Palo Alto Networks, states "We're delighted to expand our strategic relationship with Microsoft to deliver our best-in-class SD-WAN analytics anywhere. Tightly integrating Prisma SD-WAN with Microsoft Teams enables our customers to manage resilient networks and deliver improved user experience."
Automate Operations with Prisma SD-WAN CloudBlade
Prisma SD-WAN simplifies and fully automates integration with 3rd parties, using its unique API-based CloudBlade platform without any service disruption.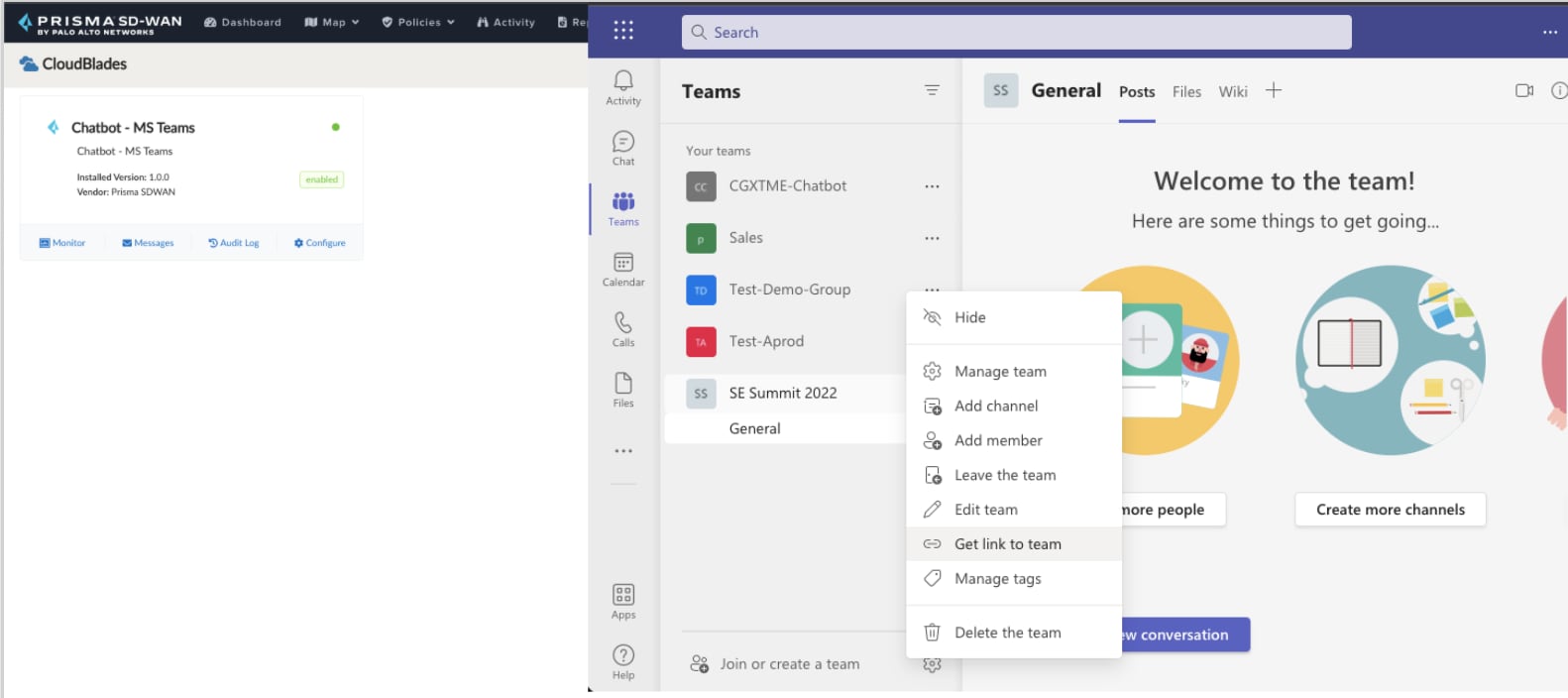 Customers can take advantage of this integration to achieve multiple benefits including:
Access SD-WAN analytics on preferred medium. IT administrators can instantly access SD-WAN analytics by enabling Prisma SD-WAN chatbot experience on Teams. Moving away from the legacy approach that mandates corporate access and supported devices to access metrics, this integration delivers visibility securely anywhere, anytime, and on any smart device.
Natural language-based access to information. Prisma SD-WAN ChatOps allows easy access to granular analytics using natural language queries. As a result, broader teams like desktop support, IT administrators, and users up to C-level can now look up branch connectivity, application performance, and network performance data to collaborate better on any issues.
Deliver the best user experience. Prisma SD-WAN ChatOps makes information flow easier across teams, thus enabling support teams to understand quickly, delegate, and escalate critical issues. Critical issues are already identified through ChatOps allowing IT administrators to quickly troubleshoot and resolve them, resulting in reduced downtime and improved application performance. Users can get information about sites, apps, and branch appliances using Chatops.
Monitor SD-WAN multi-cloud connectivity. The same CloudBlade platform also enables simplified and automated connectivity to cloud providers like Microsoft Azure. With organizations increasingly accessing their applications and workloads from the cloud, Prisma SD-WAN ChatOps now allows visibility into their branch-to-cloud connectivity to ensure cloud and SaaS applications meet their expected performance SLAs.
To learn more about how Prisma SD-WAN and Teams enable ChatOps integration benefits, check out our joint solution brief.