In May 2021, we launched the PA-5450, a highly innovative, modular, and scalable ML-Powered NGFW platform designed to secure a very wide range of networks – from large campus internet edge to data center segmentation. The performance of the PA-5450 can scale from 37 Gbps of threat performance all the way to 148 Gbps of threat performance, by simply plugging in network and data processing cards. You can explore 3D models of the PA-Series products here. The PA-5450 supports up to two Network Cards and up to five Data Processing Cards. This modular design removes dependence on predicting future performance needs, which often results in over- or under-provisioning. It's our most versatile design ever, built into a compact 5RU form-factor.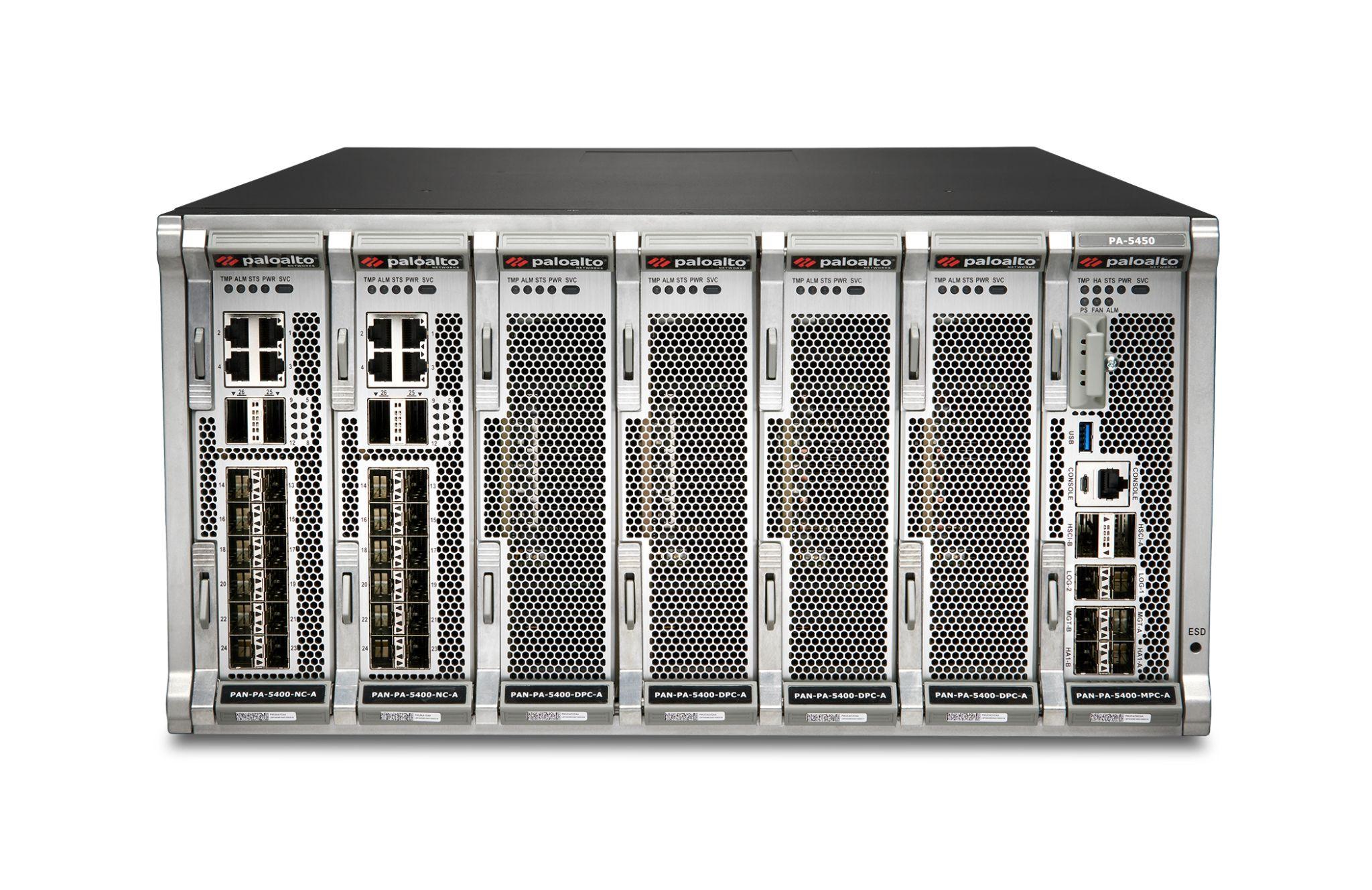 The PA-5450 is powered by PAN-OS 10.1, the software that powers our ML-Powered NGFWs, and is built with the same Single Pass architecture that is at the core of all of our ML-Powered NGFW platforms. This unique architecture – and the innovation it drives – has enabled Palo Networks to be named a Leader in the 2021 Gartner® Magic Quadrant™ for Network Firewalls for the tenth time in a row.
Miercom, an independent network and security testing organization, put the PA-5450 to the test, comparing real world performance against competing NGFW vendors, and published their findings in the detailed report NGFW Performance for Large Enterprise and Data Center Use Cases. The full suite of Cloud Delivered Security Services available on the PA-5450 provide a comprehensive security posture, and the Miercom report is based on testing with these security services enabled.
The key findings from the new Miercom report for Large Enterprise and Data Center Use Cases are listed below:
Superior Throughput with Security Services Enabled. Palo Alto Networks PA-5450 delivered up to 2.3x higher throughput across all parameters tested, including application traffic.
Superior Real-world Application Traffic Performance. On single application tests (MySQL, SIP and FIX), the Palo Alto Networks PA-5450 performance shows less than 1% degradation when services are enabled.
High Value, Low Cost of Ownership. Palo Alto Networks PA-5450 showed higher performance compared to Fortinet FG-4201F, with 46% lower cost per protected Mbps.
Firewall datasheets come in different shapes and sizes, they can include misconceptions, which don't mesh with real-world requirements. Datasheet performance testing under laboratory conditions has been used by some vendors to inflate performance numbers. This is echoed by the authors of the Miercom report who state that "We find datasheet claims do not show results of real world deployments, or sometimes even with security services turned on, thus giving a false impression of protection and performance capabilities. Miercom used each product as any customer would, providing objective and practical results."
Transparency in performance testing and truth in advertising arm security professionals with the most accurate data to ensure they can make the right decisions. Watch Security Speakeasy: Debunking the Firewall Datasheet to learn how to read firewall datasheets.
With real world traffic and security services enabled, the Miercom report confirms the PA-5450 is a much higher value and lower overall cost compared to its competition. The launch of the PA-5450 extends Palo Alto Networks leadership in network security for large campus and data center use cases.
Read the full report to find out what was tested and how. Make sure you're getting uncompromising network security with the PA-5450 series.