This post is also available in: 日本語 (Japanese)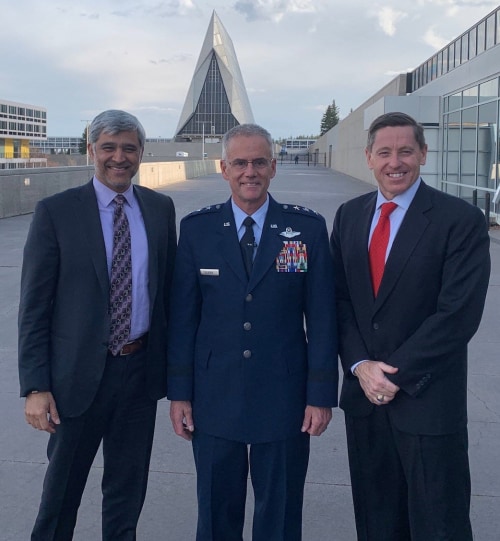 We were honored to host cybersecurity leaders across military, government, academia, and industry at this year's Joint Service Academy Cybersecurity Summit (JSAC) at the U.S. Air Force Academy in April.  Through a series of events over two days, this prestigious group came together to tackle tough conversations about today's evolving threat landscape and how we can more effectively collaborate to ensure a safer and more secure tomorrow.
Now in its fifth year, after two-year rotations at West Point and the U.S. Naval Academy, respectively, JSAC 2019 attracted more than 250 executives and thought leaders from across the country to participate in a unique event that promotes inclusion, diversity, and a whole-of-nation approach to addressing the cybersecurity challenges of today and the future. This summit exemplifies that constructive progress can – and must – be made between the public and private sectors. Additionally, it recognizes that when it comes to protecting our way of life in the digital age, cybersecurity is a shared challenge that demands close cooperation across sectors and borders.
The summit's featured speakers included Senator Cory Gardner from Colorado; Commander of U.S. Cyber Command and Director of the National Security Agency General Paul Nakasone; Palo Alto Networks President Amit Singh and Vice Chairman Mark McLaughlin; Girl Scouts of America CEO Sylvia Acevedo; and the Component Cyber Commanders for each of the military services, among many others from an impressive speaker lineup. Senator Gardner opened day one, sharing his perspective on developing and sustaining the next generation of cyber professionals, emphasizing early exposure to science, technology, engineering, and mathematics (STEM) programs. The senator also advocated a cybersecurity moonshot-like effort to more sustainably address the evolving cyber challenge, an idea that has become a primary organizing framework for the annual summit. Mr. McLaughlin and Peter Altabef, CEO of Unisys, followed by a panel highlighting the ongoing work to launch a series of "Cybersecurity Grand Challenges" as an extension of recommendations from the National Security Telecommunications Advisory Committee (NSTAC) Report to the President on a Cybersecurity Moonshot.
Other key discussions focused on the global digital divide and what it means from a cybersecurity perspective as technological shifts like the emergence of 5G, the ongoing maturity of machine learning and artificial intelligence, and the explosion of cloud computing platforms progress. Additionally, Lieutenant Colonel Traci Sarmiento, Major General Linda Singh, Rear Admiral Kathleen Creighton, U.S. Air Force Major General (Ret.) Sarah Zabel, and Girl Scouts CEO Sylvia Acevedo came together on stage for a compelling conversation about eliminating barriers and building toward more diversity in cybersecurity and beyond.
Overall, summit discussions focused on the fundamental need for a mindset shift in cybersecurity – reorienting from a largely reactive posture with unsustainably incremental progress to a more audacious vision that we can boldly assure digital trust and safety with the right level of national focus, collective commitment, and organizational will. Government, industry, and academia all have unique roles to play in creating that cultural shift, and we look forward to JSAC continuing to be a premier national forum to foster these breakthrough ideas and innovations.