Enterprises in every industry are transforming their IT infrastructure and networks to support a hybrid workforce. At Palo Alto Networks, we are constantly innovating in order to support our customers through technical transformations. Today, top IT leaders at enterprises across the globe have two big questions on their mind:
Do we have the right IT, security and network tools to support our hybrid workers?
How can we optimize and improve productivity for employees working from home, remote offices, and on the go ?
Palo Alto Network's Autonomous Digital Experience Management (ADEM) helps enterprises meet those needs. With ADEM, IT teams can detect and isolate the root cause of application performance degradation that can impact the productivity of their hybrid workers. ADEM has helped many enterprises optimize productivity for both their IT organization and workforce by reducing service desk ticket mean-time-to-resolution (MTTR), escalations, and overall ticket volume.
We are now extending beyond traditional help desk tools to resolve tickets before they are created. With the introduction of ADEM's latest capability, Self-Serve, users are instantly notified of issues within their control that impact application performance. Users are notified of issues with WiFi signal strength, device limitations, and internet connectivity.
ADEM Self-Serve offers remediation steps that guide the user to a resolution without any IT interaction. This empowers enterprises to resolve their hybrid workforce's application performance problems quickly and efficiently, without the attention of support personnel and IT employees.
"Employees today are invested in their own experience and are less willing to wait on support agents. They want reliable solutions, quickly, which often means they want self-service," says Jahnavi Reddy, Senior Product Manager at Palo Alto Networks.
Self-Serve In Action
If IT has enabled ADEM's Self-Serve when poor WiFi is impacting application performance for a user working from their home office, ADEM will raise a Self-Serve notification that contains a specific remediation suggestion like: move closer to the router. All of this happens without IT interaction, see the user view below: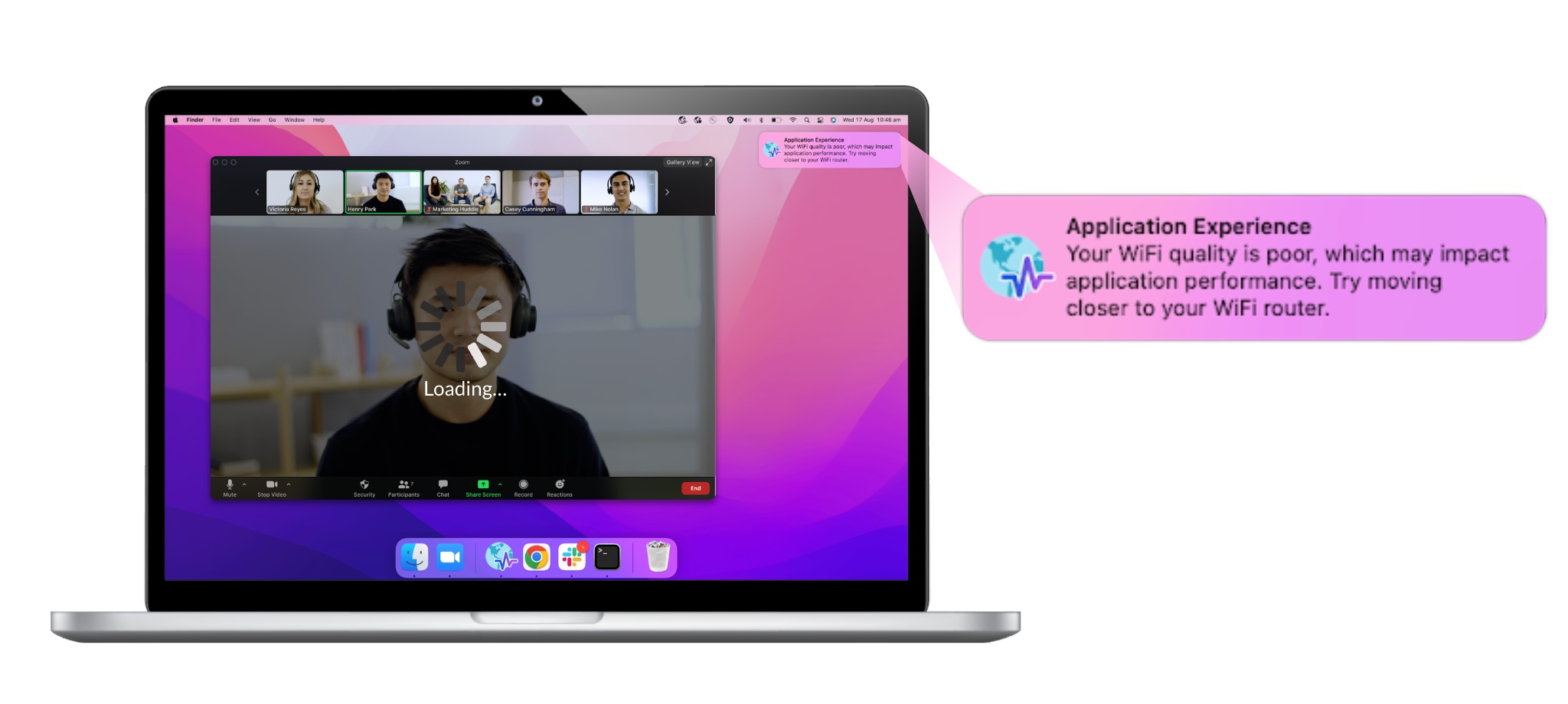 Figure A: Notification to user with remediation guidance.
"Self-service tools allow for faster problem resolution while reducing the strain on support teams." says Joshua Bieno, Cloud Security Engineer at Blue Cross Blue Shield of Nebraska. Many of the teams across Blue Cross Blue Shield of Nebraska were able to continue working in optimized conditions during the pandemic thanks to the systems, including ADEM, they had in place to support remote work.
During the pandemic, the number of virtual meetings held across the company had a drastic increase, and these applications are sensitive to network performance. The service desk saw an increase of requests from users experiencing poor application performance. Prior to implementing ADEM, it could take engineers several hours to validate the issue and identify the root cause. This process was challenging and often met with unsatisfactory results. Now, many of the tickets that were previously escalated to Tier 2 and Tier 3 support teams for troubleshooting are resolved by front line service desk admins in minutes using ADEM.
"ADEM has helped us focus on strategic projects and improvements. We have reduced the amount of time and number of tickets that require Level 2/3 support," says Bieno . "ADEM is a core part of our hybrid work strategy and will continue to help ensure the best possible user experiences for our employees, no matter where they work from and which applications they access."
Listen to Joshua Bieno, Cloud Security Engineer at Blue Cross Blue Shield of Nebraska and I talk more about ADEM and Self-Serve at the Troubleshoot Employee Experience at Lightspeed with ADEM on-demand SASE Converge 2022 session.