Palo Alto Networks Ignite, our company's signature yearly global event, is happening virtually November 15th-18th. The purpose of this multi-day event is to help organizations prepare for what's next in cyberthreats so they can stay ahead by staying secure.
This year's event has a packed lineup of Prisma Cloud customers like Goldman Sachs, Levi Strauss, Sanofi, and KPMG, industry experts from organizations such as CISA, and Palo Alto Networks leaders including our founder Nir Zuk and Chief Product Officer Lee Klarich.
We invite you to join Prisma Cloud at the conference to learn about the latest cloud cybersecurity threats and the most effective strategies to protect your organization. Read on to find the information you need to fill out your Palo Alto Networks Ignite agenda.

Building a Cloud Security Program Based on the NIST CSF
Goldman Sachs Regional Co-Head of Platform Security Architecture Birat Niraula joins SVP of Product Ankur Shah to talk about how mapping a holistic cloud security strategy to a well-known framework such as NIST Cybersecurity Framework can help organizations ensure each function ties to the overall security objective. When paired with Prisma Cloud to help augment their efforts, Goldman Sachs has been able to heighten their cloud security posture.

Prisma Cloud: The Future of Cloud Security
Our Vice President of Product John Morello and Director of Product Marketing Keith Mokris sit down to explain how Prisma Cloud helps organizations prevent and detect threats, achieve and maintain compliance, and secure their cloud environments using our single, integrated platform. If you're trying to answer the question "Why Prisma Cloud?" then this is the session for you.

The New Way to Secure Cloud Native Applications with DevSecOps
The cloud brings with it a new type of supply chain consisting of a unique set of attack vectors. Consequently, supply chain security continues to become more important as high-profile attacks such as SolarWinds demonstrate the devastating effects of cyberattacks of this nature.
In this session hosted by our Chief Security Officer Matthew Chiodi and the co-founder of Bridgecrew Barak Schoster, you'll get in-depth data around cloud software supply chain security and learn practical steps to enable DevSecOps.

Microsegmentation in the Cloud Era
As organizations take on new compute architectures, their applications become increasingly distributed and interconnected; however, rapid cloud scale and complexity without automated security controls is a toxic combination. Network and security professionals have tried bolting on microsegmentation with traditional security practices to protect against lateral attacks but find it to be complex and costly. In this session, join Director of Product Management Ariful Huq, Product Marketing Manager Jason Williams, and Software Engineer Matthew Kwong to learn about the threat landscape associated with flat networks, trends and challenges with microsegmentation in the cloud, and how to implement microsegmentation without having to rearchitect your entire infrastructure.

Cloudy with the Chance of a Misconfiguration
Your organization's cloud footprint can grow or shrink based on shifting business needs, but this has implications for security as well. Attack surfaces, risks, and blind spots increase with each added user, account, and configuration in your cloud, so it's important to protect against misconfigurations that leave your organization vulnerable to attack. Pronay Mukherjee, Business Information Security Officer, Americas from Levi Strauss will be a part of this session with Raushni Gupta, Sr. Director of Product Marketing, and Justin Hubbard, Head of Solutions Architecture, to share his perspective on the unique challenges of the cloud and frameworks that can help companies achieve a secure cloud posture.

Container Security: 5 Container Risks and How to Address Them
According to recent data from Palo Alto Networks, over 45% of companies use containers and Kubernetes, allowing DevOps teams to deploy more quickly and at greater scale. The question is, where does security fit into the mix? With new threats to the security of containers constantly arising, as with Siloscape for example, it's important to be aware of the risks in order to protect against them. Join this session with Ariel Zelivansky, Sr. Manager Security Research, and Aqsa Taylor, Product Manager, to find out how to secure your containers while learning valuable insights from our Unit 42 threat research team.

The Least is the Most You Can Do: Establishing Least Privilege Access in Cloud Infrastructure
For cloud development teams, the good news is that it's easier than ever to access infrastructure. For cloud security teams, the bad news is that it's easier than ever to access infrastructure. And in practice, organizations tend to grant far more access than is actually necessary. Gartner reported in June 2021 that "more than 95% of accounts in IaaS use, on average, less than 3% of the entitlements they are granted, which greatly increases the attack surface for account compromises." In this session hosted by Dan MacKenzie, Sr. Product Marketing Analyst, and David Onwukwe, Prisma Cloud Solutions Architect, we will discuss how Prisma Cloud helps users address these new risks and establish principles of least privilege access.
Other Notable Sessions to Attend
Together, We've Got Next: Partnering for the Future of Cybersecurity
Palo Alto Networks President BJ Jenkins, Chief Business Officer Amit Singh, and President, Global GTM Cloud and AI Security Shailesh Rao speak with customers and partners about how they're approaching becoming more proactive instead of reactive in their cybersecurity efforts. Prisma Cloud customers Brian Geffert, Global Chief Information Security Officer at KPMG, and Jean-Yves Poichette, Group Head of Cybersecurity at Sanofi, will be a part of the conversation during this keynote session.
Securing Cloud Applications with Amazon Web Services and Palo Alto Networks
Does your organization use AWS? This is the session for you! In this session led by Vinay Venkataraghavan, Chief Technology Officer of Technology Partnerships at Palo Alto Networks, and Patrick McDowell, Sr. Security Solutions Architect at Amazon, learn how Prisma Cloud integrates natively with AWS to help improve your visibility and compliance, manage risk, and automate incident response across your entire cloud environment.
Product Training
Ben Nicholson, Global Solutions Architect for Prisma Cloud, will present about how Prisma Cloud unifies security over public cloud infrastructure using a single pane of glass. We're hitting the ground running with this session to cover the following capabilities within Prisma Cloud:
Register Today for Palo Alto Networks Ignite 2021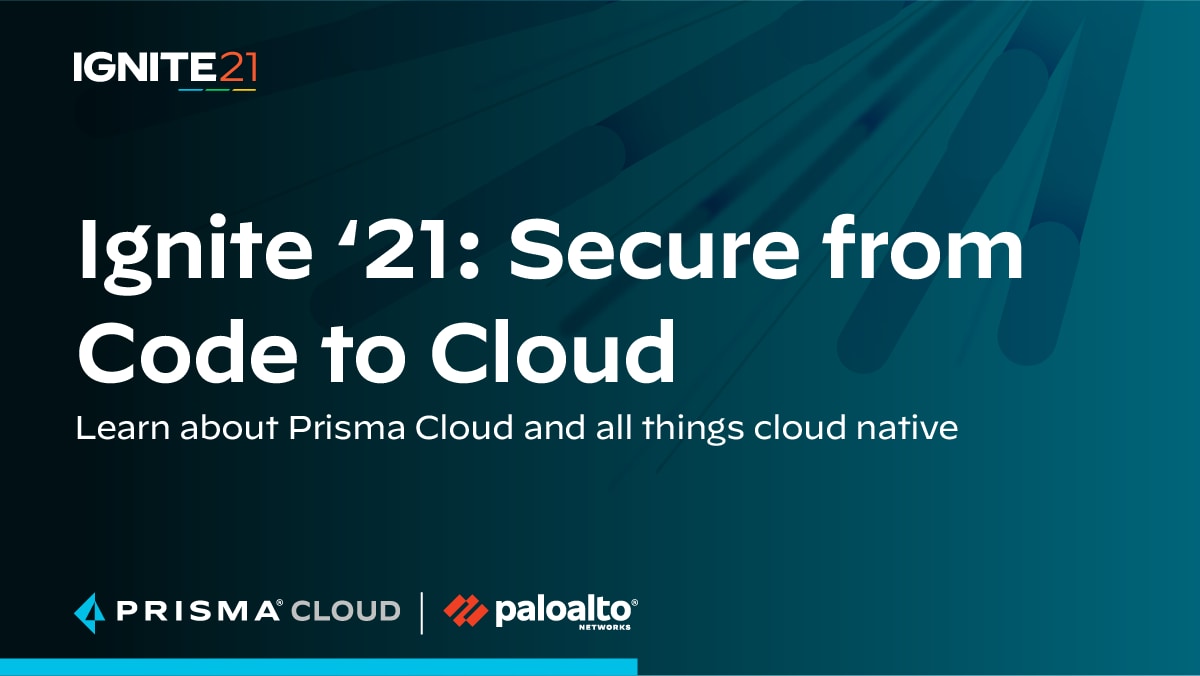 We hope you'll join us at this year's Palo Alto Networks Ignite virtual conference.
Register today and follow Prisma Cloud on Twitter to get reminders all the way up until the event about our sessions!